June 2020 is on a new level.
A lot has happened since the last post. Protests have exploded in the US and around the world. Several reporters covering protests and instances of police brutality have been shot at by riot police, one freelancer lost her eye to a projectile, and my friend Gustavo Martinez Contreras live-streamed his own arrest on Twitter.
Recent protests and calls for reform have put large companies that claim to be allies under the microscope… including the media industry. Despite only ever working out of NYC, I have seen very few women and people of color in leadership. There are publications that claim to be left leaning and "progressive" do not hire people of color on staff, some that do oftentimes don't retain those employees for very long. These are organizations that claim to care about equality but pay women of color significantly less than their white counterparts.
It's people who say they are not racist because they weren't screaming a racial slur in someone's face but deny a qualified candidate of color a raise, or put more pressure on an underrepresented person to avoid mistakes, or don't give those employees the same career opportunities.
And an abusive former employer (who was particularly nasty to POC) recently posted about supporting Black Lives Matter on social media. So thats fun.
Unless serious culture change happens, or unless serious restructuring of hiring practices change, I don't think media will diversify. Senior editors of different publications have stepped down in new claims of racism and discrimination against employees of color, but real change needs to be paired with newsrooms looking at who they have excluded. When a newsroom only hires from a very narrow socioeconomic status, and from a very narrow idea of what is "appealing" to audiences, they are not hiring the best person for the job.
Enough ranting, here's the Q&A:
Freelancer Q&A #5: Arielle Kirven on Performative Activism
For the next few months, I'll try to conduct Q&As with fellow freelancers. I'll highlight their journey, what it's like to navigate a seemingly volatile career during so much uncertainty, and how other jobs have fueled their writing careers. Most of my interviews will be with women, people of color, and others who are underrepresented in media.
Arielle Kirven is a rising senior at Amherst College, majoring in English and Art History. She focuses on art, design, and media. I came across an essay she had posted in her own Substack about performative activism it was a great look at how some online activism seems to me more about self promotion than it is about furthering a cause.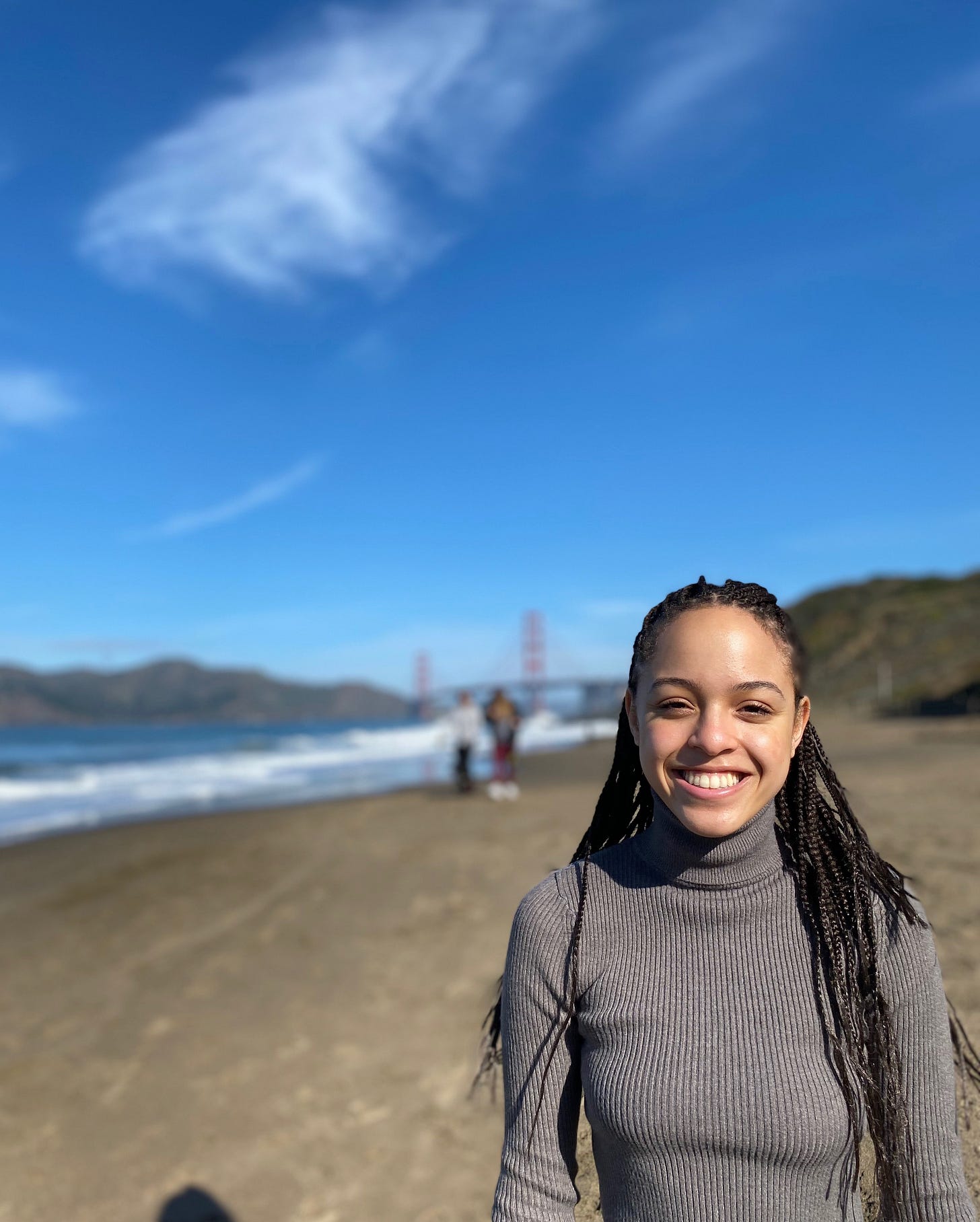 When did you decide to create a newsletter? 
In middle and high school, I would always spend twenty minutes scrolling through blog posts on a curated RSS feed before school. I loved the way that those bloggers were able to share aspects of their personal lives, and inspire others along the way. This past year, quite a few people told me that they would watch my content if I had a Youtube channel. That's when I started to think about creating a platform. The newsletter idea stuck after I saw Haley Nahman launch her newsletter, Maybe Baby. She's one of my favorite writers. 
How did you decide on a theme? 
I hope to write things that I, myself, would want to read. Currently, those topics include art, fashion, culture, politics, and wellness. Over time, the theme will probably shift to whatever feels the most urgent. 
You recently wrote a great post about performative activism and argued about who it really benefited from certain social posts and actions, how did you plan this post? 
The post came out of a lot of frustration and anxiety about this current moment. Without the ability to protest, I felt like a complacent bystander. I saw this post as an opportunity to contribute to the conversation. In terms of planning, I write everything in the order that it's seen on the page  so I knew that I wanted to write about media, performance, activism, and highlight how one builds off of another. 
You made connections to black artists that use their race in performance art and how that differed from performative activism you keep seeing on social media during recent protests and actions that are calling attention to anti-blackness and police brutality. Why did you take that angle?
I thought it would be an effective strategy to illustrate the ways in which black people put their (already at risk) bodies on the line. I also admire the work of those artists, and I wanted to expose my readers to their work. Black artists are so often overlooked. It's important to me that my newsletter brings attention to their work. 
According to your experience, what online actions/post feel like a performance vs a form of activism and what kind of "sustained engagement" would you like to see from allies in the future?  
There's this quote that I see traveling around that reads: "I don't understand, but I stand." I find that quote really frustrating because it seems to excuse people from trying to understand. I think that's an example of performative allyship. Instead, allies should attempt to educate themselves, engage in these conversations, and amplify black voices. 
There's a lot of amazing, raw, and honest work about race that's being shared online about mental health for black writers and allyship... is there an angle on these topics that you haven't been able to find but would love to see published?   
I'm interested in the impact of ancestral trauma or generational trauma on the mental health of young black people today. I'm also interested in the ways that colonial spaces may hold trauma, and how it can be palpably felt in the environment. I'm thinking specifically of New Orleans, Charleston, and towns in New England. I want to do more research before I write a post on these topics. 
Will you continue to write about the culture of activism, performance, and race in the future? If so, what are other themes within those topics that writers can look forward to? 
I want to see where these conversations take us next. I hope to do a deeper dive on how these issues manifest on a college campus. I'm also interested in how white guilt (on social media) has led to rampant consumerism of black products and services. Everywhere I look white influencers are recommending their "new favorite black businesses." It's interesting that people believe they can make up for their racist practices with the dollar, and I'm curious to see if that will continue. 
Your post on Substack feels like the start of a larger cultural criticism essay/article, so I'd like to know more about the kind of writing you're interested in doing in the future. What direction do you see your culture writing going in? 
I love cultural criticism. That's probably the number one thing that I read all of the time. Although, my goal is to get more specific. I'd love to focus on one writer or one album or one exhibition or one neighborhood. I also love writing long-form feature profiles, and I would like to do that in my newsletter too. I think that will come with cultivating an audience that is interested in the specificity of those subjects, and also establishing a routine that allows me to write faster.
Are there other kinds of writing that you'd like to do in the future? If so, what are you most interested in and why? 
I'm actually hoping to experiment with dramatic writing. I've always loved television and theatre, but I haven't had the chance to attempt storytelling in those formats. They are both powerful conduits of empathy and expression. 
Are there any goal publications or projects that you'd like tackle in the future? 
I really like the culture section of The New Yorker, Man Repeller, and The Cut for New York Magazine. I would also like to write for a more art-focused publication like Hyperallergic. 
As a young writer of color, and a student, what can other writers & editors in the industry do to support you and your career? 
Honestly, I would love for people to reach out. I like having meaningful conversations with people, and would appreciate the opportunity to pick anyone's brain. 
At the end of your post you listed resources so that readers could educate themselves, are there any you omitted or remembered last minute that you'd like to share now? 
Read bell hooks, Audre Lorde, Angela Davis, James Baldwin, and Richard Wright.
***
Learn more about Arielle's work on Medium, check out her newsletter, follow her on Instagram, and on Twitter.
***
Missed last week's newsletter? Read my pervious Q&A with Chicago based writer Tatiana Walk-Morris on how non-bylined work pays her bills.
 Q&A with food writer Irina Groushevaia on intersection of food, wellness and queerness.